How To Tell If A Ford F150 Has A Max Tow Package?
The Ford F-150 is the best-selling vehicle in the United States. It's a powerful truck and an excellent family vehicle.
Many use their F-150 to tow large items like boats or RVs. However, not all trims have the same capacity, and you might need to upgrade to haul such heavy loads.
The easiest way to know if your Ford F-150 has a max tow package is to check the owner's manual or look up the Vehicle Identification Number (VIN) on Ford Etis. Alternatively, you can confirm whether your vehicle has certain features, like a bigger fuel tank and/or upgraded rear axle.
The Role of a Tow Package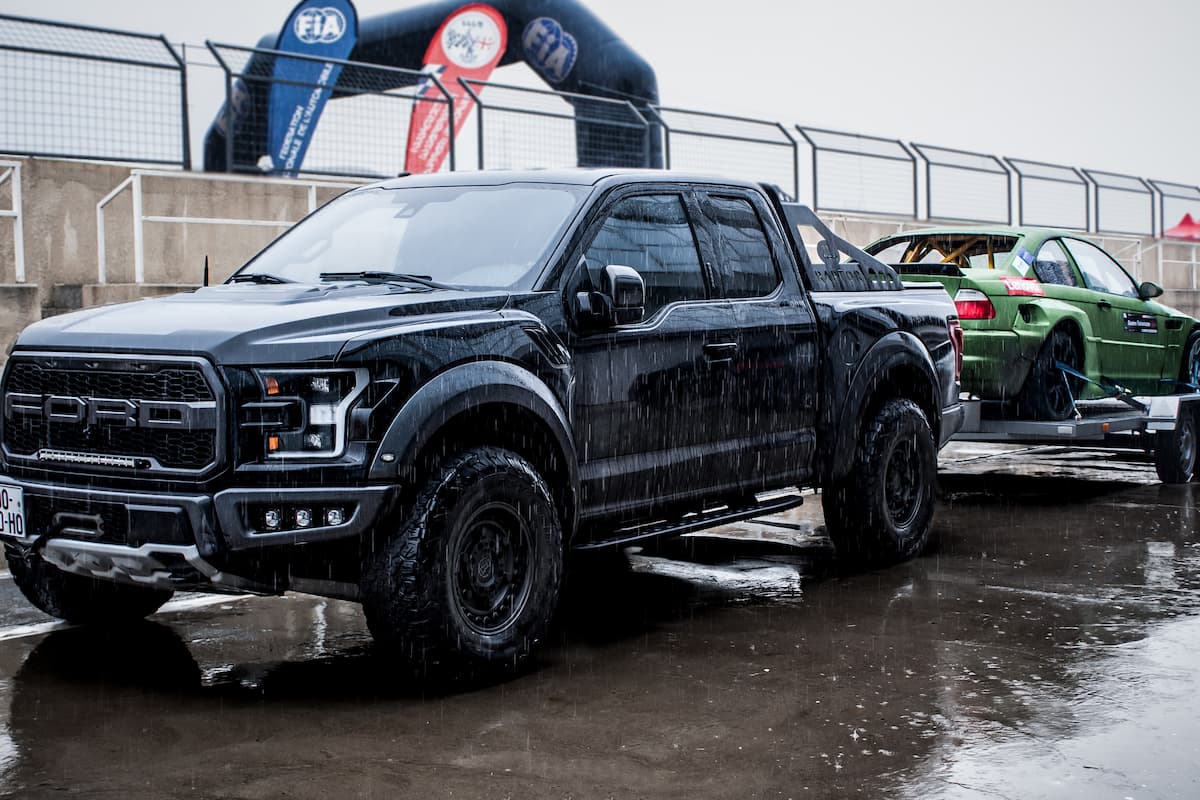 A tow package is a set of additional components that ensures you can haul heavier loads without compromising your vehicle.
The central piece of a tow package is the hitch. Paired with specific electric components, you can easily connect your vehicle to a trailer.
Other components of a tow package include:
A more powerful engine
A stronger brake system
Suspension upgrades
Gear upgrades
Larger heat exchangers for enhanced cooling of the transmission.
The specific upgrades depend on the manufacturer, so don't be surprised if your vehicle doesn't have all the above features.
You can buy an F-150 with a built-in tow setup or upgrade the existing one with aftermarket tow packages.
Additionally, due to limitations on a vehicle's towing capacity, aftermarket tow packages aren't as reliable as factory tow packages.
For example, if your truck has a max towing capacity of 5000, an aftermarket tow package won't suddenly increase that number. The new components must align with your vehicle's current towing capacity.
Factory tow packages are more dependable for heavy-duty hauling as the manufacturers consider every feature and ensure they correspond with existing parts.
Installing a factory package gives you confidence that all parts work in tandem and that nothing overestimates the vehicle's hauling capacity.
The Max Towing Package of an F-150
The F-150's max towing capacity is the best of all commercial trucks, and the max tow package can haul up to 14,000 lbs (6350 kg) with no problem.
That said, your standard F-150 can only pull 4000-8000 lbs (1814-3628 kg) without feeling the weight.
An F-150 comes with a set of components that make pulling heavy loads safer and more manageable, including:
A Class IV trailer hitch
A longer wheelbase
Thicker rear springs
An upgraded front stabilizer bar
A larger fuel tank
An upgraded gear system
Engine coolers on all engines except the base 3.3L V6
A tailgate LED for night-time hitching
The Backup Assist to ease reversing with a heavy load
The Brake Controller.
The increase in rear spring thickness enables the truck to resist the pressure of heavier loads.
The brake controller uses indicators like braking input, vehicle speed, and ABS logic to balance the truck's and the electric trailer's braking system.
The longer wheelbase further enhances balance, which is essential when pulling heavy loads.
How To Tell if Your F-150 Has a Max Tow Package
The easiest way to know if your F-150 has a max tow package is to check the owner's manual or find your vehicle's VIN on the Ford Etis official website.
Another way to confirm if your vehicle has a max tow package is to look for specific upgrades.
The first and most significant is the gear system. The max tow package has an impressive electronic-locking rear axle and a 3.55 gear ratio.
A max tow package paired with a Heavy-Duty Package has a greater gear upgrade with a 3.73 ratio.
The second feature of an upgraded F-150 is a larger fuel tank. A max tow package boasts a 36-gallon (135 L) fuel tank, a nearly 50% increase from the standard truck's 23 or 26-gallon (87-98L) tank.
Heavier loads equal increased fuel consumption. A larger tank doesn't reduce the need for fuel, but it does mitigate frequent stops at the gas station.
The last recognizable feature of a max tow package is the upgraded rear bumper.
Significant Upgrades in an F-150 With Max Tow Package
All the upgrades in the max tow package make the F-150 worth the money, especially if you plan to haul a boat, trailer, or RV.
However, specific perks are hard to overlook, including:
Backup Assist
The Upgraded Rear Axle
Integrated Trailer Brake Control (TBC).
Backup Assist
Backup Assist enables you to back up your trailer with help from your truck.
Most drivers are familiar with the challenge of turning your trailer in the opposite direction of your vehicle, but by rotating a knob, Backup Assist makes it significantly easier.
Press the knob to turn it on, shift to reverse, and take your hands off the steering wheel.
From then on, keep rotating the knob in your desired direction, and the trailer will follow.
Releasing the knob initiates the truck's movement, ensuring it aligns with the trailer's.
For precise turns, turn and hold the knob continuously.
The Upgraded Rear Axle
The F-150 has an electronic rear axle that ensures even power distribution to the rear wheels, improving performance on rough roads and in harsh weather conditions.
The 3.55 or 3.73 gear ratio ensures effort doesn't equal excessive fuel consumption and provides more torque during towing.
Integrated Trailer Brake Control (TBC)
The Trailer Brake Control system lets you balance your trailer's braking system through your F-150. TBC ensures that every time you press the brakes, they're also activated for the trailer.
You can also control this function by sliding the control lever to the plus or minus side, enabling you to control the trailer's brakes with reduced influence from your vehicle.
The TBC system also alerts the towing vehicle in case of a loss of connection.
Controlling your trailer's brakes is more challenging without TBC, so take advantage of it if your F-150 has the max tow package.
Is It Safe To Add an Aftermarket Max Tow Package?
Yes, it is safe to add an aftermarket tow package; however, an aftermarket max tow package will not increase your truck's towing capacity.
The ability to haul a heavy load is based on several factors, and installing a more powerful engine has a better chance of increasing towing capacity.
Unless you also upgrade your engine, ensure the aftermarket max tow package corresponds to your vehicle's features.
Still, just because aftermarket accessories don't increase towing capacity doesn't mean you should avoid them – they still make towing safer.
Just consider all the variables when upgrading your truck for towing and take precautions to ensure any modifications maintain the integrity of your vehicle.
Conclusion
An F-150 with a max tow package has several benefits for drivers who tow heavy assets.
From the powerful gear system to the impressive brake control features, the components in the Ford F-150 enable it to handle just about any terrain.
Still, you may not need these upgrades if you rarely tow heavy loads. The base truck is more than capable of handling lighter items.
If you're considering modifications to your truck, do some research to avoid installing the wrong parts or compromising specific features.
When using a Ford F-150 to haul heavy things, like boats, trailers, or RVs, it's crucial to understand towing capacity so your belongings get to your destination intact.